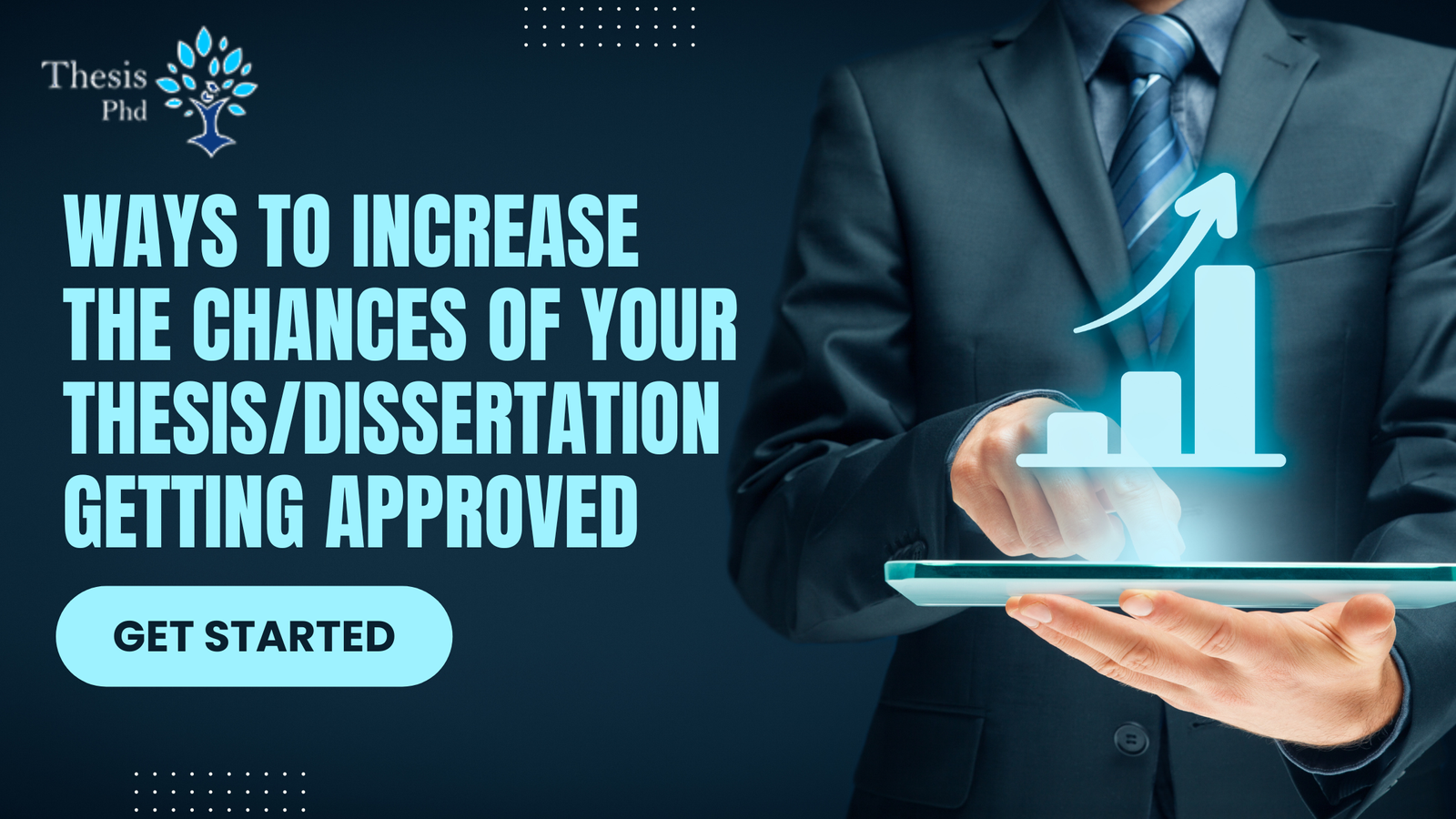 Ways To Increase the Chances of Your Thesis/Dissertation Getting Approved
Ask any research scholar who is pursuing their master's or doctoral degree about the most frustrating and hard task that they had to complete during their academic terms. By most probabilities, you will get a thesis phd / dissertation as their answer.
Not only is the task of writing a thesis/dissertation a task hard enough to cause frustration but also enough to overwhelm any student who gets one assigned to them. Preparing a complete dissertation requires a very long and hard process that can easily make any scholar give up without the right amount of motivation or guidance.
But that is also the very reason why a thesis/dissertation can single-handedly steer your career into its best phase and allow you to get bigger work and researching opportunities in your career while having the chance to work with renowned global experts in your research field.
Is Getting Your Thesis/Dissertation Approved a Hard Task?
To give you the simplest and blunt answer, yes, getting your thesis/dissertation approved and published is as hard of a task as it gets in academics. It is also true that a thesis/dissertation is the hardest academic paper that a scholar can ever prepare in their academic career.
Preparing an average thesis/dissertation can take about 1.5-2 years, depending on your field of research, but it is not rare to see this time limit stretch even more. But what is even more frustrating about the task of preparing a thesis after putting all your efforts into it is that by most probabilities, it will not get approved and published on the first try.
Our research writing experts at Thesis PhD have more than a decade of experience in preparing theses and dissertations and have helped numerous amounts of research scholars and students in getting their thesis/dissertation approved. Contact our team to know more.
Ways to increase the chances of approval
So, now that you know about what a thesis/dissertation is and how preparing it can be quite a hefty and tricky task, let's get to know about ways which can improve and enhance the efforts that you are going to put in for preparing your research and increase the chances of your dissertation getting approved and published by the judging committee of your educational institution.
1. Learn to make infinite drafts
One of the trickiest things about writing a thesis or dissertation is the task of writing it. Writing a dissertation requires you to write long sections accordingly with the help of the research, that you have done on the existing literature on your topic and the physical data that you have collected.
But ask any writer if they have ever published their very first draft, I'll give you a spoiler, the answer is going to be a big no. This is because the first draft is written to present a representation of the content of our mind on the paper. But while doing so, we tend to overlook our mistakes and language absurdity.
A thesis or dissertation is the highest quality academic paper and hence, is deemed to consist of impeccable language. And in order to present your research content in such a way, you need to keep reading your written work and keep correcting and refining it with the help of making constant drafts.
2. Make sure to plan the structure with your supervisor/teacher
Before starting to prepare a dissertation or a thesis, you need to understand that every educational institution prefers a different thesis structure. Due to this, to write your dissertation in the best way possible, you need to consult with your research supervisor or professor and discuss the structure of your thesis.
Discussing the structure of your dissertation would also allow you to know more about how you can increase the chances of your academic paper getting approved. Structuring your thesis in the right way will at the very start also make you able to understand how you should advance with your research according to the order in which its sections have to be aligned.
3. Be interesting 
If you think that since a thesis or dissertation is an academic paper, it just has to consist of data and information, then you are right but wrong at the same time. Your dissertation does need to consist of innovative information but it also needs to consist of that information in a way that the reader finds it interesting to read and engaging as well.
You do not need to write your thesis as a fiction book but you do need to add some elements of flair that allow your reader to get immersed in its reading experience and not sleep in between reading it. Because if your thesis/dissertation does not include such intriguing elements, then its length would surely make your reader get bored and eventually, get disinterested in reading it.
4. Never write in a chronological order 
Most newbie researchers get this step wrong and start writing their thesis/dissertation in chronological order. While writing in chronological order must seem logically right, it is not. Writing some sections or chapters of the thesis in non-chronological order will allow you to get better results.
For example, the abstract or the introduction of your thesis must always be written after the main chapters and the conclusion as it will provide you with a better insight about your research and provide the best bits in your introduction as it will act as the trailer for your movie.
But make sure to never mess up the chapters that are needed to be written in chronological order, such as your main chapters and conclusion chapter as they all correlate and co-ordinate with each other to make a proper flow.
5. Find a flow 
Though you need to write all of your chapters with the best language use and in an appropriately interesting manner, you also need to make a constant flow with your language. A constant flow is a pace that you set up for your research and how you interconnect each chapter with its following one to make a proper flow for the reader to catch up and keep reading.
Keeping a proper flow will also provide you reader with a more immersing experience and will increase the readability of your dissertation as well. The right flow for your academic paper can only be created after its structure is properly made in accordance with your academic institution.
Conclusion 
Writing a thesis/dissertation for your master's or doctoral degree can sure be a hard task and getting it approved and published can be a harder task. But if pursued with the right mindset, proper techniques, and keeping in mind all the necessities for preparing a thesis/dissertation, then preparing a dissertation/thesis and getting it approved becomes a comparatively easier task.
If you want to know more about preparing a thesis/dissertation or want to get yours prepared by industry-leading research writing experts, then contact our team are visit our website at www. thesisphd.com for the best thesis helping service.
Ask any research scholar who is pursuing their master's or doctoral degree about the most frustrating and hard task that they had to complete during their academic terms. By most probabilities, you will get a thesis phd / dissertation as their answer. Not only is the task of writing a thesis/dissertation a task hard enough…